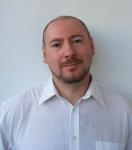 Konstantin Pyryaev
Coach's biography
Konstantin has been playing chess for over 30 years. During his school years, he was the captain of the school chess team at the youth championship "White Rook". Konstantin was winner of many chess tournaments and held the champion's title at children's chess club, summer camp, at school, college and university. Later he became an assistant coach at the chess club and team captain at the regional competitions. Konstantin was very active organizing chess tournaments for children and adults and other sport competitions such as soccer, darts and many others.

Konstantin is the head of the Vancouver Chess Club "Mikhail Chigorin."

A devoted enthusiast of chess playing, Konstantin encourages regular meetings for children and adults, friendly tournaments and matches with other chess clubs in the city.

Konstantin has a blog and a section in the newspaper devoted to chess life in Vancouver.